Posner Center Symposium 2020
Big and Bad Ideas in Collaboration 
February 27th-February 28th 
at the Posner Center for International Development
Register and Learn More Here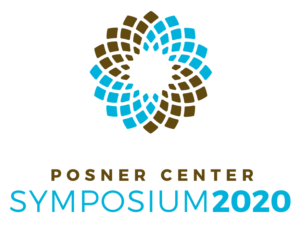 The Posner Center Symposium is a gathering of leaders and agitators who are thinking differently about how we make significantly bigger impacts in global development work through collaboration. We will convent the Posner Center Community, other organizational leaders and experts, our local and global stakeholders, and our partners and supporters, to share knowledge, experiences, and lessons learned to transform global development work and contribute to the evidence base on best practices in collaborative global development. The Symposium is central to our continuing efforts to establish Denver and our Posner Center Community as a transformative leader for global development work done differently.
This will not be your typical symposium. We will present new case studies, raw lessons learned (successes and failures), and bold ideas and their results. Certain to be engaging and memorable, we will take risks with provocative content and innovative protocols. There will be ample opportunity for genuine networking and mixing with other Symposium participants in our intimate Posner Center environment.
Our Founder and Executive Director, Sherry Manning will be leading a session on the second day called,"Can Local Government and NGO's Collaborate for Success?" During this session we will share our stories of success and challenges that partnering with local government has brought. We will share our lessons of patience, perseverance, and how to build and foster good working relationships with local government officials who share a similar mission.
Help Raise Kneaded Dough
Pizzeria Locale in the Highlands
March 3rd 4pm-10pm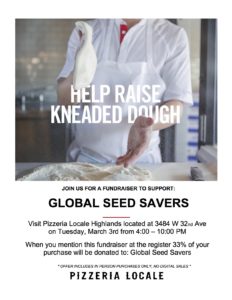 Enjoy delicious pizza and more at Pizzeria Locale in the West Highlands on 32nd and Lowell and 30% of your check including alcohol will be donated to us. Grab some friends and dine out for a cause with us on March 3rd! Remember to tell the cashier you are there for Global Seed Savers to make sure your support is registered.
JOIN US IN MAKING A GLOBAL IMPACT