Oakland, CA Happy Hour Event
Soul Provisions
(1629 Broadway Oakland, CA)
July 25th 6:30-8:30pm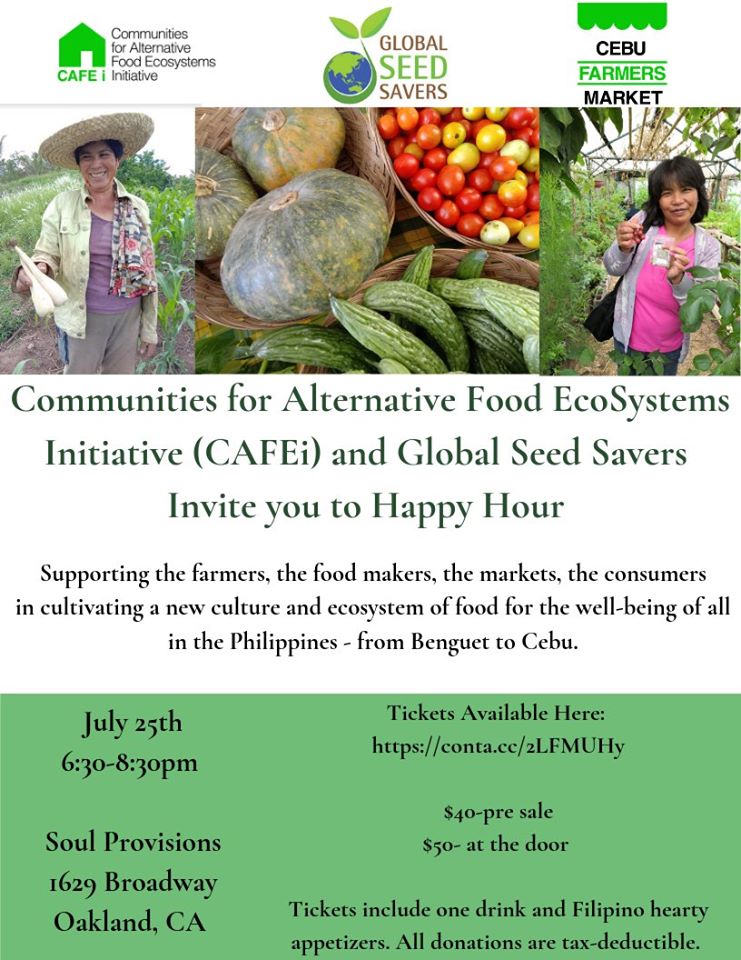 Join us and our collaborators at Communities for Alternative Food EcoSystems Initiative (CAFEi) for a special happy hour event in Oakland, CA. In 2017, Global Seed Savers (GSS) and Communities for Alternative Food Eco-Systems Initiative (CAFEi) began a collaborative partnership to bring seed saving and sustainable agriculture training programs to farmers in the province of Cebu. This collaboration is now growing and has launched a Seed Library in Cebu that is ensuring farmers have access to their own locally produced open pollinated seeds.
Founders and Executive Directors of both organizations Sherry Manning of Global Seed Savers and Teresa D. Ruelas joining from the Philippines of Communities for Alternative Food Ecosystems Initiative will be at the event to share about their collaborative work and plans for the future! Purchase tickets here.  Can't attend but still want to support the event make a donation here. Tickets include delicious Filipino Heavy Appetizers and one drink at the bar (alcohol or non-alcoholic).
All funds raised will support the collaborative work of Global Seed Savers and CAFE-I helping ensure Filipino Farmers food and seed sovereignty and resilience in the face of climate realities.
Crazy Mountain (Denver) Non-Profit Night 
Crazy Mountain Brewery (Denver)
471 Kalamath Street
Wednesday, July 31st 6pm-8pm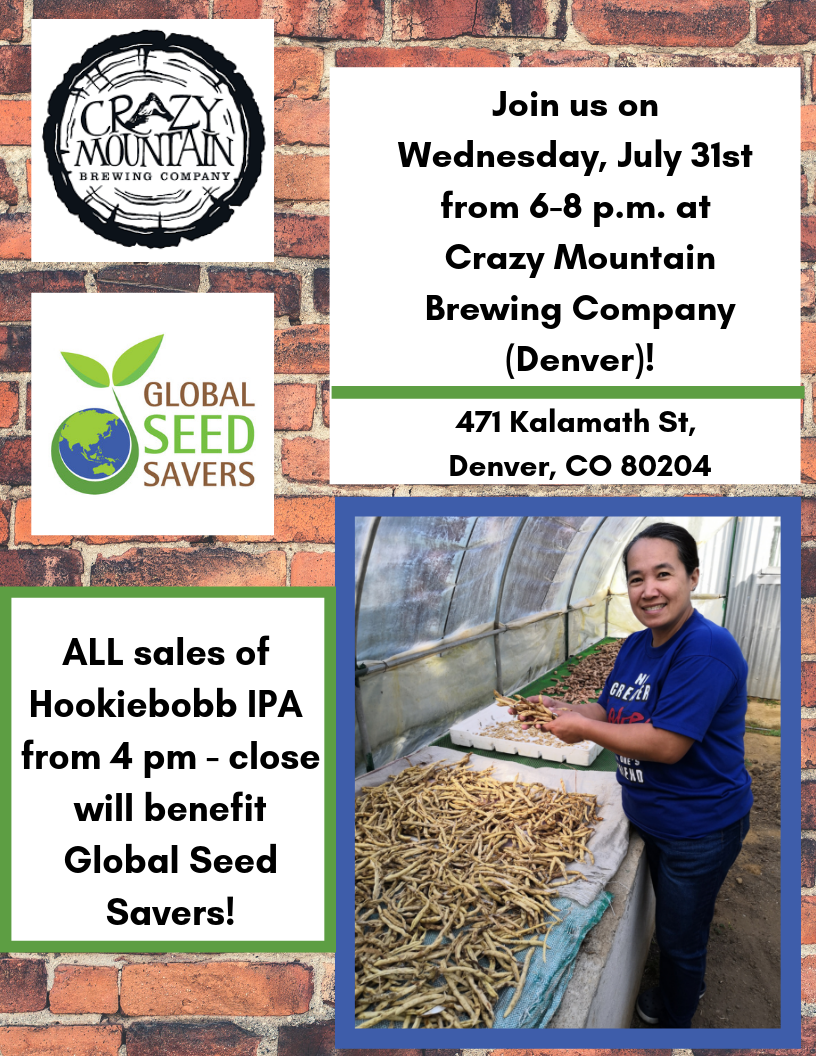 Join us for nonprofit night at Crazy Mountain Brewery in Denver. They will be be donating all sales from the Hookiebobb IPA from 4-close to us. Come out for some delicious beers all supporting food and seed sovereignty in the Philippines. Our friends at The Orange Crunch Food Truck will also be set up selling their delicious Filipino Food from 5-8pm, so come thirsty and hungry! Check out the Facebook Event
here.
Save the Date
9th Annual Nourish Event
Saturday, October 26th 11am-2pm
at the Posner Center for International Development
More details coming soon. For now Save the Date! 
JOIN US IN MAKING A GLOBAL IMPACT