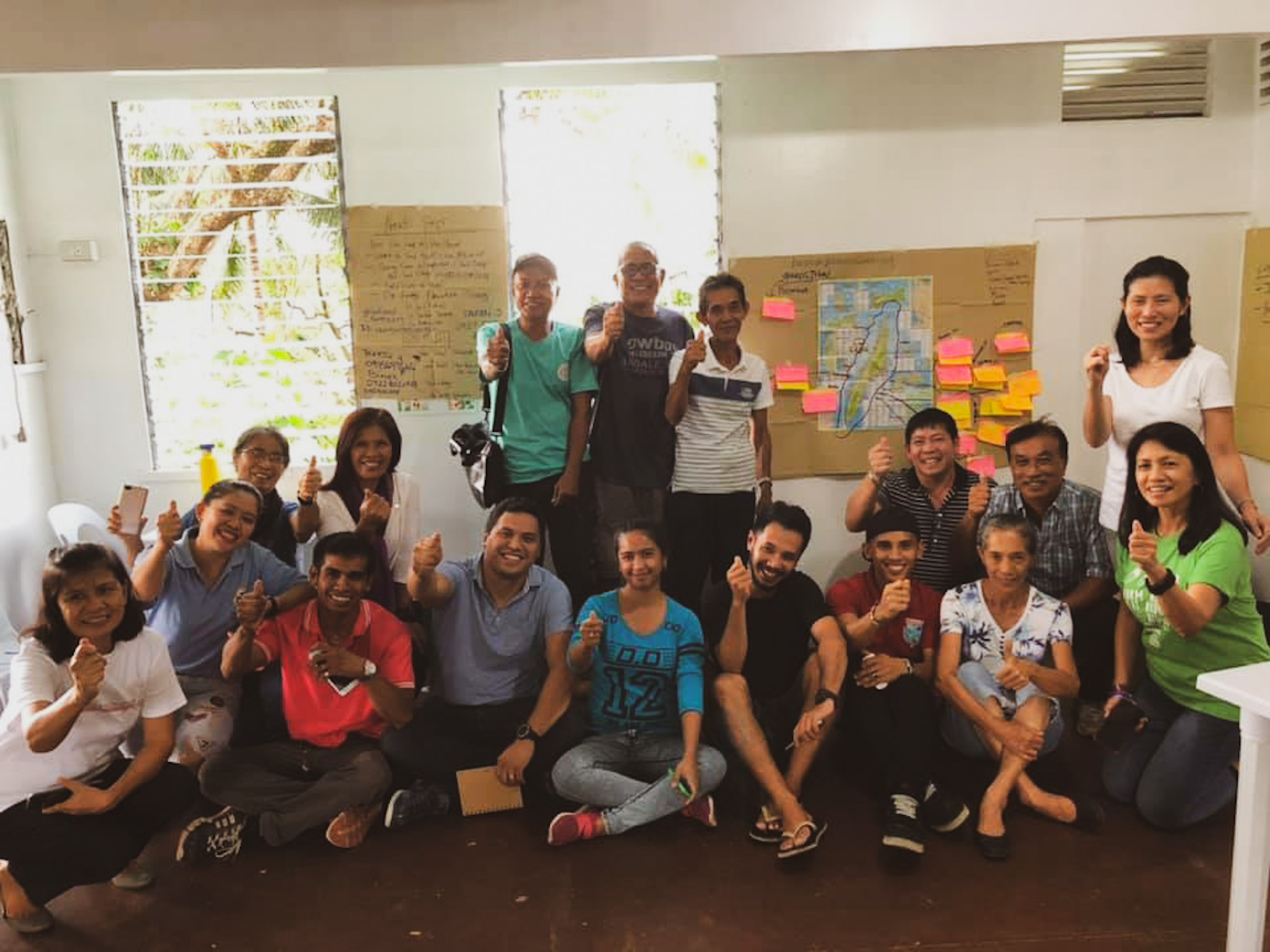 It has been a very busy and productive two weeks here in the Philippines. Wow hard to believe it has already been two weeks! It was wonderful to arrive and stay with my dear friend and our Philippines Board President Padma and her family. They have a beautiful oasis of an old family home right off of Taft and ESDA in the heart of Metro Manila. For any of you that have been to the Philippines you know that this is a jam packed, dense, loud, crowded area of what I affectionately call "The Big Smoke" (Metro Manila). So it was a breath of fresh air after a long journey to stay in their lovely ancestral home with high ceilings, friendly faces, and comforting delicious Filipino Food for one night.
The next day we had a leisurely drive North to Baguio City, and as we started to crest up the mountainside the air began to change and the cool pine tree breeze and familiar energy of Baguio City greeted us. While the city is ever increasing in traffic and noise it is always wonderful to return to the mountains and my second home here in the North. The following day Padma launched her book "Green Entanglements: Nature Conservation and Indigenous Peoples Rights in Indonesia and the Philippines." A beautiful culmination of her PhD and time spent living, learning, and listening to indigenous communities about the many entanglements our modern world can present for nature conservation and IP communities. It was a wonderful book launch to honor Padma's hard work and turned into a fantastic reunion of many Baguio City friends gathering to celebrate Padma and reconnect.
Global Seed Savers Team with Padma and Jenny at the book launch.
With our friends of Denver SilverHand that also run a coffee farm in Baguio.
2nd Philippine Permaculture Association Convergence
The next morning we rose early joined by our partner farmers Ma'am Ester and Ma'am Letty and headed back south to Los Banos (2 hours south of Manila, so 8 hours from Baguio) to attend the 2nd Convergence of the Philippines Permaculture Association (PPA). PPA has become a fantastic partner in our work incorporating seed saving into their design courses and helping support our farmers' participation in their trainings. The convergence was a beautiful gathering of like-minded souls from all over the Philippines each doing their part to build a more sustainable future. It was wonderful to reconnect with many of our partners including our dear friends and seed sisters at Kai Farms Karla and Amena. We held a Seed School there last year and are looking forward to hosting another Seed School with them inearly 2019 and helping develop a community seed library in Silang, Cavite.
BASS Farmers Maam Ester and Maam Letty at the PPA Convergence
GSS with our Seed Sister Karla Delgado of Kai Farms
Karen, our dynamic Country Manager led a fantastic breakout session all about seed saving and the importance of our growing work. She beautifully described how seed saving paired with permaculture principles will lead to the most food and climate- resilient communities. There is indeed a growing awareness around the Philippines of the importance of saving seeds and ensuring all communities have access to their own locally produced non-chemically treated seeds. We are thrilled to be spreading this message and skill set with more partners and helping Filipino communities return to this sustainable and historic practice. It is becoming more clear as we share our work with a broader community, that there is a massive need to increase the local seed stock available to farmers and gardeners throughout the Philippines. Each time we share about our work more and more people wake up and realize the critically important role they play in this process. We are excited to see where all of the wonderful connections made at the PPA Convergence take us and thankful for the opportunity to have shared about our mission and advocacy with this wonderful community of farmers, earth healers, and friends!
Workshop participant during the Seed ID Activity
Karen teaching about seeds
Growing Collaborations in Cebu
After a quick one-night stay in Manila last Sunday, Karen and I flew to Cebu City on Monday morning to meet with our partners, the Cebu Farmers Market and their recently formed NGO, CAFÉ-I – Communities for Alternative Food Eco-Systems Initiative. We held two Seed Schools in Cebu this year and with their vibrant organic market happening three days a week in Cebu City we have been excited to explore a more long-term relationship and creation of a seed saving hub in Cebu. Cebu City is also where Karen grew up and her parents live. They were kind enough to host us while we were there and it was wonderful to spend some time with her family.
With our partners in Cebu Teresa and Bingbing of Cebu Farmers Market and CAFE-I!
Many of our dynamic partners around the Philippines are led by strong duos of women and Cebu is a perfect example of this! Ate Bingbing is a Slow Food Advocate and has helped establish and manage the small Seed Library they started earlier this year after our first Seed School. Ate Teresa is a tireless community organizer who years ago had the vision to create access to healthy organic food in Cebu which is what formed the vibrant Cebu Farmers Market. They partner with farmers to sell locally produced healthy organic produce and products three days a week in Cebu City. Teresa is also very active in the Anti-Golden Rice Advocacy (GMO) Movement and extremely passionate about our collective work.
On Tuesday morning we met at their beautiful office space set up on a hillside with three small rooms and a beautiful deck for outdoor meeting space and a garden. Since holding our two Seed Schools in Cebu earlier this year, it has become clear there is a growing movement for organic farming on the island and desire to launch a seed saving program. We had a great planning session to prepare for our meeting with the farmers on Thursday. We also enjoyed a wonderful lunch with two of the leaders at the Cebu Farmers Market, Tita Jeidy and Kuya (older brother) Dito. They both have amazing personal stories of overcoming health challenges through growing their passion for organic farming and access to healthy and sustainable food.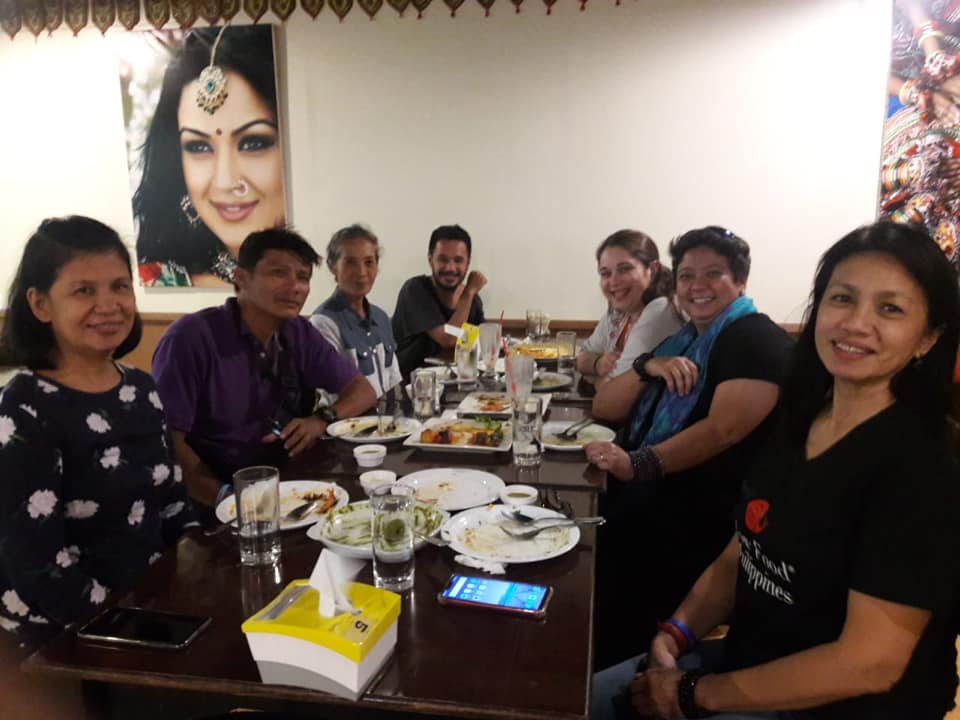 Kuya Dito is a graduate of our earlier Seed Schools and a passionate seed saver, proven by the fact that within moments of our time together he pulled out seeds from his pack! A number of years ago a coconut tree fell on his back leaving his legs slightly paralyzed. He now walks with two canes and leg braces. However, this nearly life-devastating experience helped him become more passionate about organic farming. Despite his physical limitations he continues to work hard to produce a wide diversity of organic crops and help restore many local varieties of fruit. His farm is known for passion fruit production and he was kind enough to give me a bag of delicious passion fruit before we left. The humble kindness and generosity of the farmers we work with never ceases to amaze me!
On Thursday a group of 30 farmers gathered at the CAFÉ-I Office to learn more about launching a Cebu Seed Savers Group. Karen and I spent the morning sharing more about our work, the model we have created in Benguet Province, and the importance of communities returning to saving their own seeds and operating seed libraries. The participants ranged from landowners who are passionate about organic farming, smallholder farmer co-ops, young farmers as well. The average age of farmers in the Philippines is 57, so a key to ensuring a food secure future for the Philippines is encouraging and training the next generation of farmers.


During the second half of the meeting all participants located on a map where their farms are and shared more about the types of crops they are currently growing, and what seeds they would like to be producing. It was wonderful see the spread of these dedicated farms across the island of Cebu. Cebu City is the oldest City in the Philippines and used to be the capitol of the Country. Cebu is a southern hub of the country and we are strategically very excited to be expanding our work to this region to form a Cebu Seed Savers Group. All of the participants are excited to join in this effort and they will be meeting again in early January to make further plans. Karen will also be traveling to Cebu in February to conduct another Seed School and a Seed School Teacher Training Course to ensure those that wish to teach seed saving in their communities have the skills and knowledge to do this.
While we are still finalizing our plans for how the Cebu Seed Savers Group will be organized and managed, we are thrilled to see our work grow to this important Southern Regional Hub of the Philippines. We are grateful for our growing collaborations and so thankful to be building this movement with Cebu Farmers Market, CAFÉ-I, and all of their participating farmers!
Onward with Seeds!!