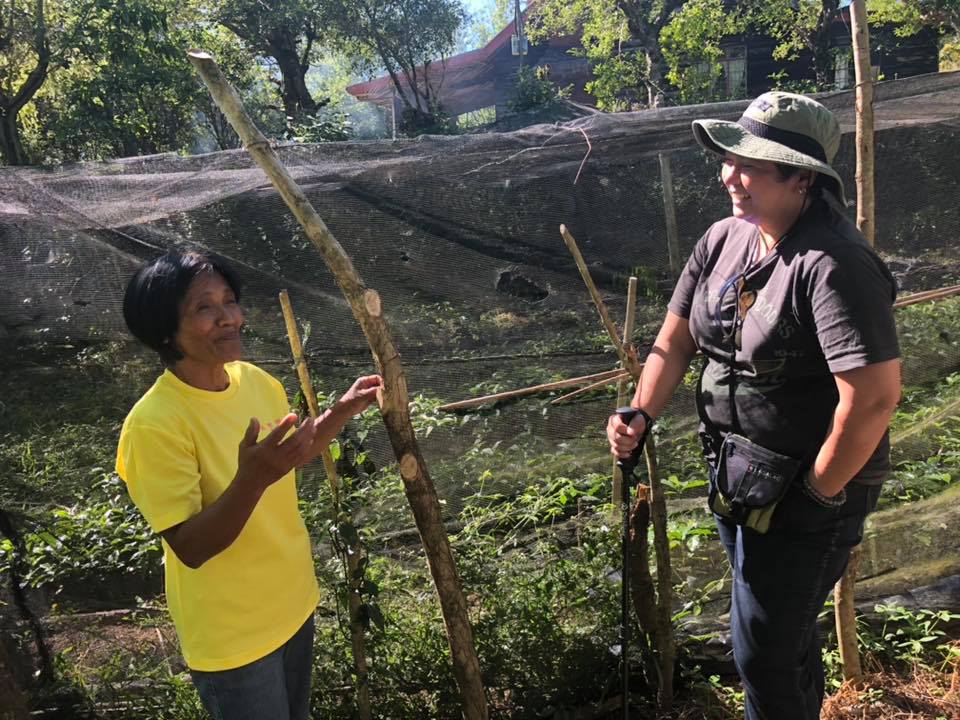 Imagine a beautiful mountain valley surrounded by pine tree and tropical forested mountains, rice fields lining the riverbank, and a beautiful organic farm just above the road that passes through this magical place! This scene is real and last week during our farm visits with the Benguet Association of Seed Savers (BASS) we spent lunch and a lovely afternoon at Auntie Mary's beautiful farm tucked away in Tublay Central. It is always grounding and reaffirming to go on farm visits with our dedicated farmer partners during my annual visits to the Philippines. While I recognize the deep importance my fundraising and advocacy away from the farms provides… my favorite days each year are spent in the fields learning, laughing, and sharing best practices with the BASS Members. They are a passionate, knowledgeable, and extremely dedicated group of farmers and each time we spend time together I am reminded of how blessed I am to get to work with each of them!
Auntie Mary's beautiful organic farm sits along a small riverbed and she is a true organic practitioner having farmed organically the last 15 years, since a personal heath scare during her last child's birth. She is a new member of BASS and plants a wide diversity of organic crops including okra, lettuce, beans, adlay (a Filipino native grain), and especially exciting is her native corn!! The Philippines is SE Asia largest producer of GMO Corn, with over 800,000 hectares planted around the country. Considering that corn wind pollinates up to 10 km, some studies are starting to show that all the corn in these densely GMO planted areas might be contaminated. It is a real treasure that Auntie Mary has native corn and she is excited to keep growing it out at her isolated farm and share seeds with BASS farmers and our Seed Library in Tublay.
We also visited BASS Members Fely and Pastor Jun (a new member of BASS and the current President of the Tublay Organic Farmers Association). I have known Fely for many years, since my early Peace Corps days and this was my first time to visit her farm. Set just below the ridgeline of Coroz in Tublay she has a wide and beautiful farm full of coffee (she partners with another NGO to export to Japan) and a wide diversity of vegetables including herbs and squash. We toured the area she had dedicated to saving seeds, but sadly her greenhouse was destroyed in the recent typhoons. We are still formalizing how to share the funds raised to support all the BASS members impacted by the recent typhoons. In total, BASS Farmers suffered over $20,000 USD in damages. To date we have raised just over $2,500 to support their continued recovery and any additional gifts are much appreciated and will go a long way to ensuring BASS Farmers can continue to propagate quality seeds. Donations can be made via our website: https://globalseedsavers.giv.sh/ba3e.
Pastor Jun's Farm is located one ridgeline North of Fely's and feels like a hidden gem as you walk the steep pine tree path into the woods and turn a corner to see a magical secret garden. Pastor is new to organic farming but already has a wide diversity of crops including dill, cucumber, carrots, beets, and more. His farm is in a perfect location for our continued seed trials and increased seed production, because it is well isolated and already proving to be fertile land. Pastor is excited to conduct carrot seed saving trails in the coming months and expand his seed saving knowledge as a new member of BASS.
GSSP Board Retreat and Planning
As you might remember, last year we registered our Philippine Counterpart NGO Global Seed Savers Philippines. It has been a fruitful year for the organization starting to gain local funding support and formalize their board roles and action steps. I have enjoyed getting to help guide this process with the Philippines Board and last week Sunday-Tuesday Karen, Padma (a longtime friend and the GSSP Board President) and I gathered in La Union at the beach for a two-day working retreat. It was the perfect relaxing setting to reflect, make plans, and brainstorm our future and continued growth. Priority topics included: local board development, an assessment of the current strengths on the board and what we are missing, we also laid out ambitions programs plans for the coming three years including:
Hosting 6 seed schools in 2019

Hosting a Philippines Wide Seed Summit in 2019

Launching at least 8 new seed libraries by 2021

Hiring more local staff to manage our growth to new regions and more!
It is an honor to be building this organization with Padma and Karen and I am excited to see where 2019 takes us after a fruitful and productive retreat. Also, special shout out to Nash another Philippines Board Member currently getting her Masters Degree in Belgium who joined us via SKYPE for day one of the retreat.
This has by far been my busiest trip to the Philippines in recent history; between conferences, travel all over the country, new partner development meetings, and lots of time spent with Karen planning, formalizing processes, and reflecting on our last three years of growth and impact! I am excited to head to Sagada tomorrow for some R and R to round off my final week here in the Philippines.
There is so much momentum for Global Seed Savers right now and I am excited to continue to support our Philippines Team and Farmers as we grow and ensure more farmers have access to locally produced non-chemical seeds!
Thank you for following along and all of your support for our work!