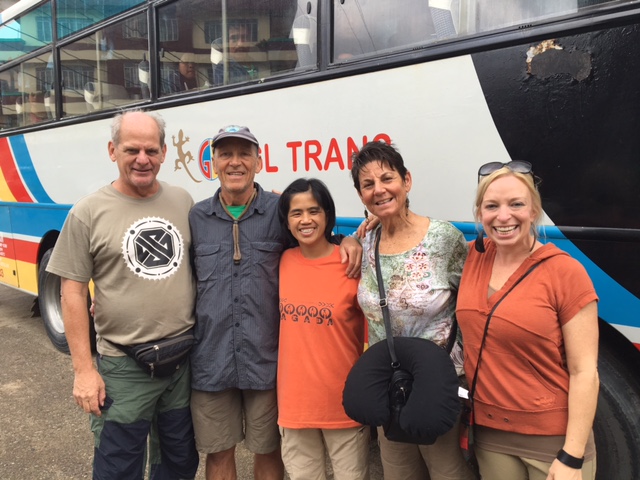 Image above: Bill and Belle right before leaving Sagada on Friday. With our wonderful hosts Steve and Siegrid.
It is hard to believe that after well over a year of planning and preparations our much anticipated 3-Day Seed School and Farmer Capacity Building Seminar is over and our guest facilitators are off to their next destinations! I cannot begin to express my deep gratitude to Bill McDorman and Belle Starr of the Rocky Mountain Seed Alliance, and Heather DeLong from DeLaney Community Farm at Denver Urban Gardens for jumping head first into this adventure and sharing their knowledge, love, and heart with our farmers and all they encountered during their time in the Philippines. You each made the 3 day seminar the great success that it was by adapting your curriculum to our local context, helping each participant realize they are a critical part of a global movement, and most importantly sharing your heart and knowledge with all you encountered during your time here.
The largest success of the seminar was the fact that it was like nothing any of us had ever done before (facilitators and farmers alike). To have a room full of 50 farmers that traveled from 6 different Provinces in the Philippines (many required 2 days of travel to reach the venue in Baguio City) and create a space for farmers to learn not only from our guest facilitators but also from each other was incredibly powerful! While their challenges might be different in their respective communities as the seminar unfolded it was clear that all of the farmers have something to learn and teach each other. Friends of ENCA Farm is very excited to continue this momentum starting with our core Seed Savers from Benguet Province to step up and become trainers as we continue to work with our new found collaborators across the country. That is the true success of this work when it is fully taught and run by the farmers that are actively restoring seed saving to their communities. Each participant left the seminar with hands on knowledge of how to save seeds, a new found connection to the global landscape of seed saving, we held an impromptu seed swap where farmers got to exchange seeds amongst themselves, and each participant left with a tangible plan of how they will implement their new found seed saving knowledge at their farms and within their communities. We have ignited a powerful group of dedicated farmers and community leaders that I have no doubt will change their communities for the better with each seed they sow, save, and share!
We have spent that last three days in Sagada one of my beloved pockets of the world. High up in the mountains about 6 hours north of Baguio City nestled amongst pine forest and limestone cliffs sits this beautiful mountain town. While each time I return the startling influx of domestic tourism is visible with new hotels popping up everywhere, I so am thankful to have wonderful local friends to stay with and experience the "real Sagada" through. Siegird, my dear friend and talented local potter and her husband Steve (former Peace Corps) always open their home to me and our guest felt the same hospitality. We went on an epic 5-hour hike up Mt. Ampacao two days ago. As we climbed up steep road and trail it was worth each step to reach the top where there was wide-open grassland and amazing views of neighboring villages and mountains complete with a delightful breeze. This was the perfect place to end our impactful time together to hike, reflect, and eat delicious food and homemade bread that is ever abundant at Siegird's since her mother runs a bakery out of the house.
I am looking forward to spending a few more solo days here in Sagada to continue to reflect, plan, and prepare for all the follow up work we have with the farmers from the seminar and planning for 2017. We will be finalizing our Seed Library Space and small office at the Municipal Hall in Tublay next week when they officially open the new food-processing terminal in town.
Once again I would like to send a huge thank you to our guest facilitators and The Posner Center for International Development, International Collaboration Fund Grant that made this program possible. We have launched a dynamic community changing movement with 50 farmers and are incredibly excited to watch the seeds we have germinated grow in the coming months and year!