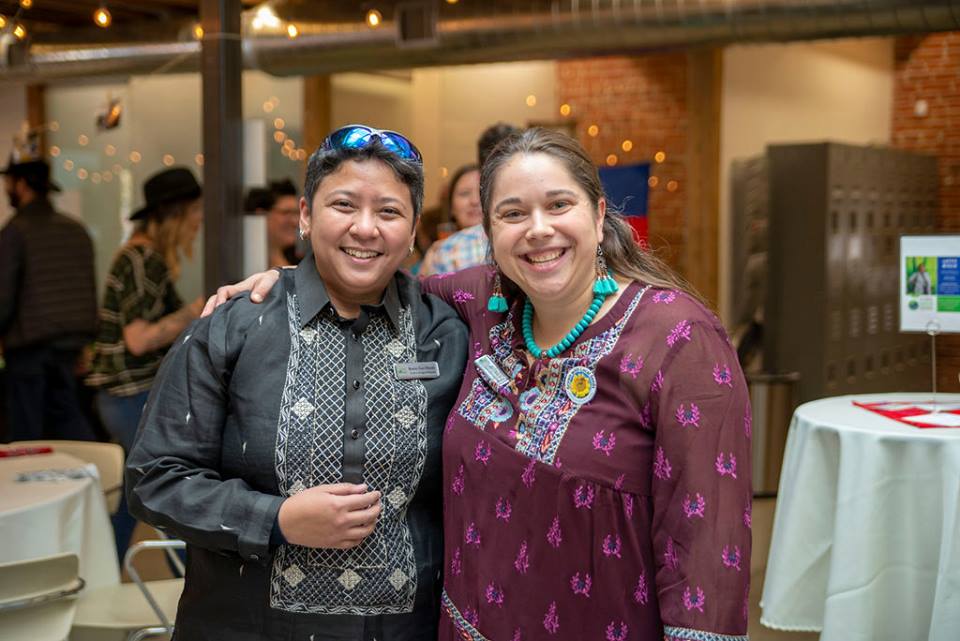 Image above: L-R: Karen Lee Hizola Philippines Country Manager and me at our 8th Annual Nourish Event.
This is always an exciting time of year for Global Seed Savers! Riding the wave of momentum from our 8th Annual Nourish Event held in October, me preparing to depart for my annual trip to the Philippines in less than 24 hours, and recent connections made on the ground including a TV interview with the Filipino Version of "Good Morning America" and sharing about our work with Former DENR Secretary and Environmental Activist Gina Lopez. These are each signs that we are on the right path and our community continues to grow!
Nourish Event Highlights
For those of you that attended our 8th Annual Nourish Event on October 20th you can attest to the powerful, heartfelt, and touching day we shared! Karen our dynamic Philippines Country Manager shared her personal story of why Seed Saving is so important in her country and why she believes that little by little, what we are helping support farmers to do will keep families together, restore biodiversity, dramatically improve farmers economic realities, and build a more climate and food secure future. Karen's passion for our work rang through and she received a well-deserved standing ovation after her keynote address. Thank you Karen for making the long journey to be with us and for sharing your story and passion for your country and for making our world a better place!
We were also honored to have our mentor, partner, and dear friend in this work, Bill McDroman, the Executive Director of the Rocky Mountain Seed Alliance share some wisdom and inspiration during the event. Bill has been saving seeds and teaching communities throughout the Rocky Mountain West to do the same for over 30 years. In 2016, he and his wife Belle along with Heather DeLong from DeLaney Community Farm joined us in the Philippines to lead and host a 3-Day Farmer Seed School and Capacity Building Seminar. This was a catalyst program for us and is what launched our now vibrant Seed School Program and grew our partnerships to include communities throughout the 7,000 islands of the Philippines. We are so grateful for our continued collaborations Bill and honored to be on this path with you to restore our diversity and food system with each seed sowed, saved, and re-planted Thank you for your mentorship and continued guidance and support!
In addition, local spoken word poet and hip-hop artist Meta Sarmiento brought down the house with his powerful performance describing his journey as a Filipino growing up in Guam struggling with identity and the social and environmental injustices he witnessed and experienced as a first-generation Asian Pacific Islander in America. We are honored to have you in our community Meta, and thankful for a skillful, passionate artists like yourself, that emboldens our work and movement from the ground up!
Looking Towards the Future
As I finish my final preparations to spend the next 5 weeks in the Philippines I always like to take time to reflect and think about how far we have come since we began this journey. For me, this started over 12 years ago in March of 2006 when I boarded an airplane for an island nation I knew very little about and began my two years as a Peace Corps Volunteer in the Philippines. This is when the foundation of what is now Global Seed Savers began to germinate and my life became forever intertwined with the amazing beauty, heart, and passion of the Filipino People. While the mission, scope, and work of Global Seed Savers has rightfully evolved and expanded in the last four years. My connection and passion for this place and people will also be centered in the quiet Municipality of Tublay (where our founding Seed Library is) and with the Cosalan Family and my time spent at their little pocket of heaven ENCA Farm. In these seemingly uncertain times in our world reconnecting with our foundations, our origins, our traditions are essential and seeds help us all to do this!!
So, while I am excited and looking forward to the: Permaculture Convergence this weekend, the countless new partner meetings that will happen during this annual trip including flying to Cebu and continuing plans for expanding our work and creating a Southern Hub for seed saving there, and spending dedicated time with our Staff and Philippines Board visioning and planning out our next 3-5 years. I am most excited to reconnect with my Global Seed Savers origins, to spend time with the Cosalan Family, to see my dear friends and fellow activists in this work, and to be with the dedicated farmers at the Benguet Association of Seed Savers (BASS) sharing seeds, stories, and visions for the future that we will all continue to build together!
Thanks for following along on this journey and helping to embolden and support our work and mission at Global Seed Savers. Next update from the Philippines!