I arrived safely to New Delhi early this morning after a wonderful first five days in the Philippines in Cebu. I really hit the ground running when I arrived last Saturday and despite some unfortunate changes to our plans (due to illness of a colleague) my time in Cebu while short, was oh so sweet and productive! First stop was the Saturday and Sunday Cebu Farmers Markets. What a joy to connect in person with the entire CAFEi Team (our partner NGO) and many of our dedicated Cebu partner farmers! We shared laughs, stories of their on-going recovery from Typhoon Odette, and some talks of future plans! More to come on this all!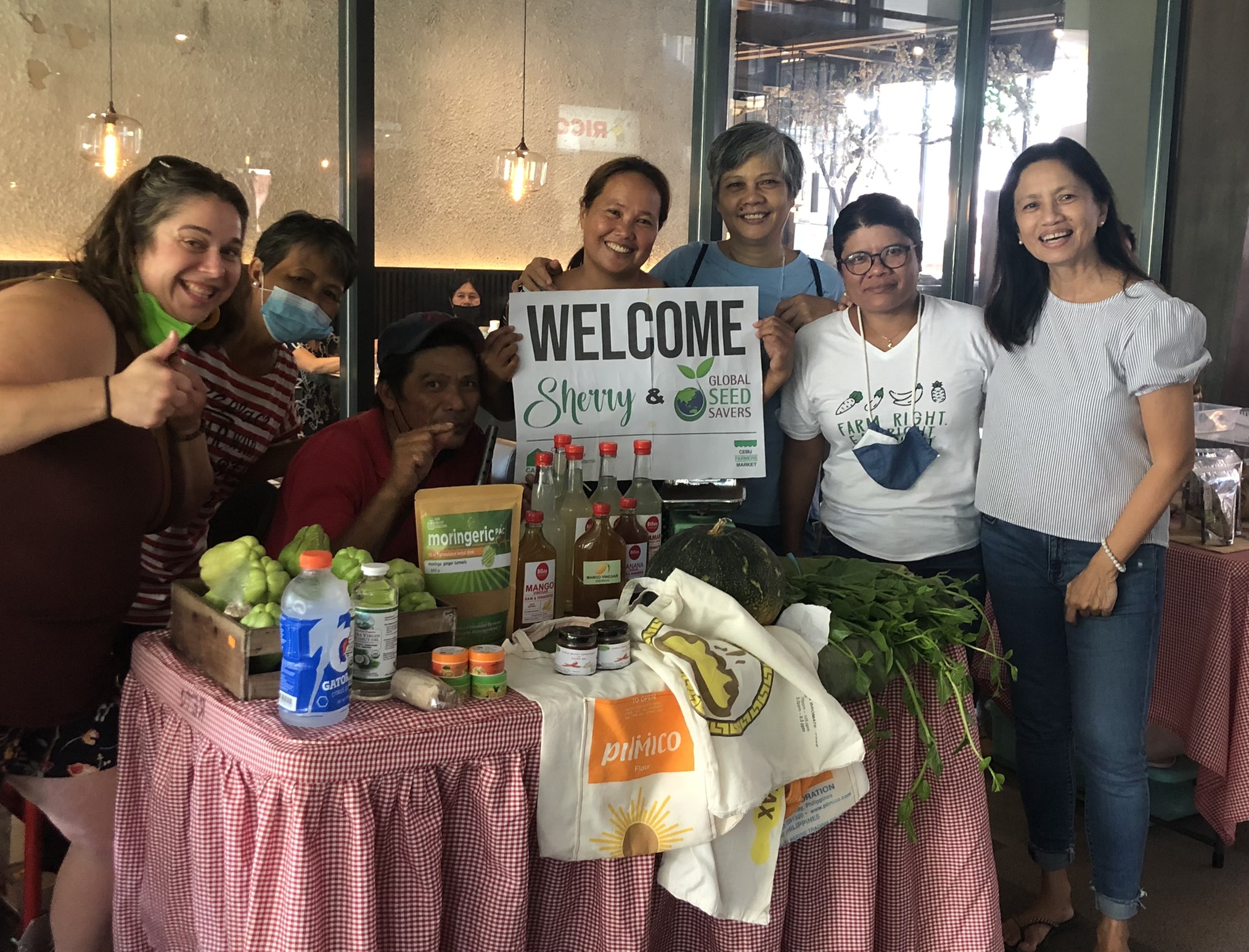 A warm welcome on Saturday at the Cebu Farmers Market
We also had a wonderful planning meeting with CAFEi on Monday. Teresa and her team have a bold vision for Cebu food and seed sovereignty, and we continue to be honored to collaborate with them on these cross-cutting issues. Collaboration in this work is not easy, it takes deep time and care to foster healthy working and personal relationships amongst partners, and I am so grateful that we have found a partner that is equally committed to these values and work ethic, as all at CAFEi are. It was particularly special to get such wonderful quality 1-1 time with Teresa. She is a dear friend and sounding board as a fellow organizational founder/leader and I will always treasure how the universe opened the door for more of this space during my short stay in Cebu! All roads lead to more GSS Team members to charge our vision for Cebu forward!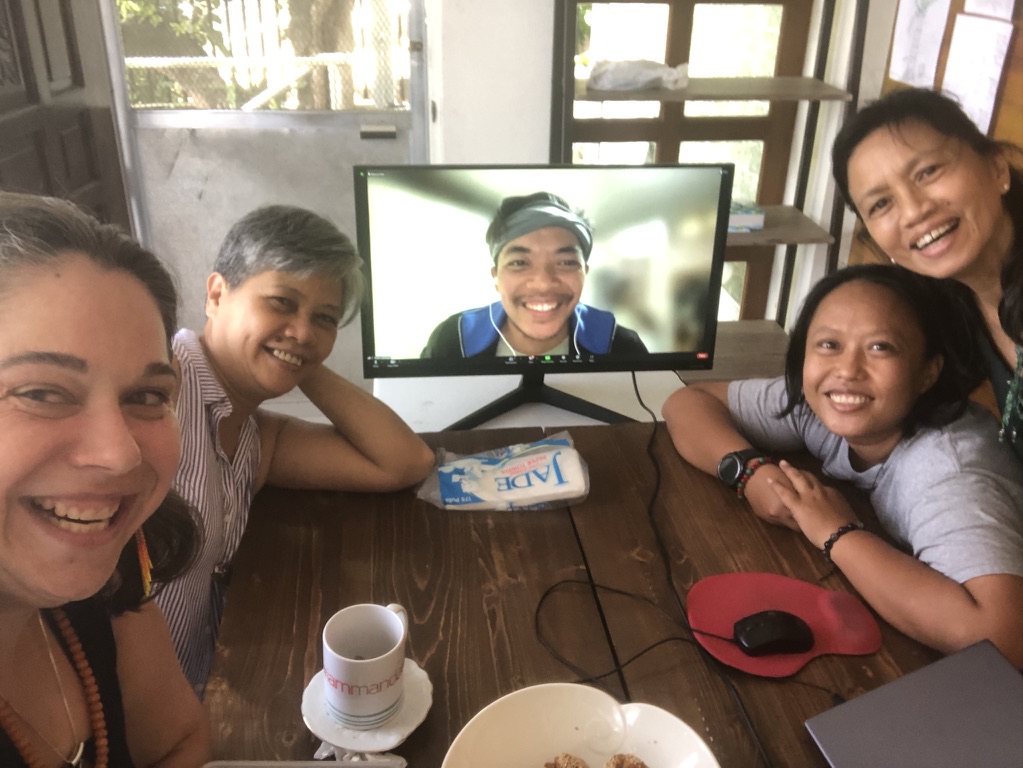 Planning meeting with Team CAFEi and GSS
I also traveled north on the island to Arapal to visit GSS team member Harry at our seed production site. It was very special to get 1-1 time with Harry also and discuss his plans and visions for the future with local seed production and more. I had shared with the team before I left the US that having quality 1-1 time with each team member during this trip was a key priority for me and I am so happy to have kicked this off with Harry in Arapal.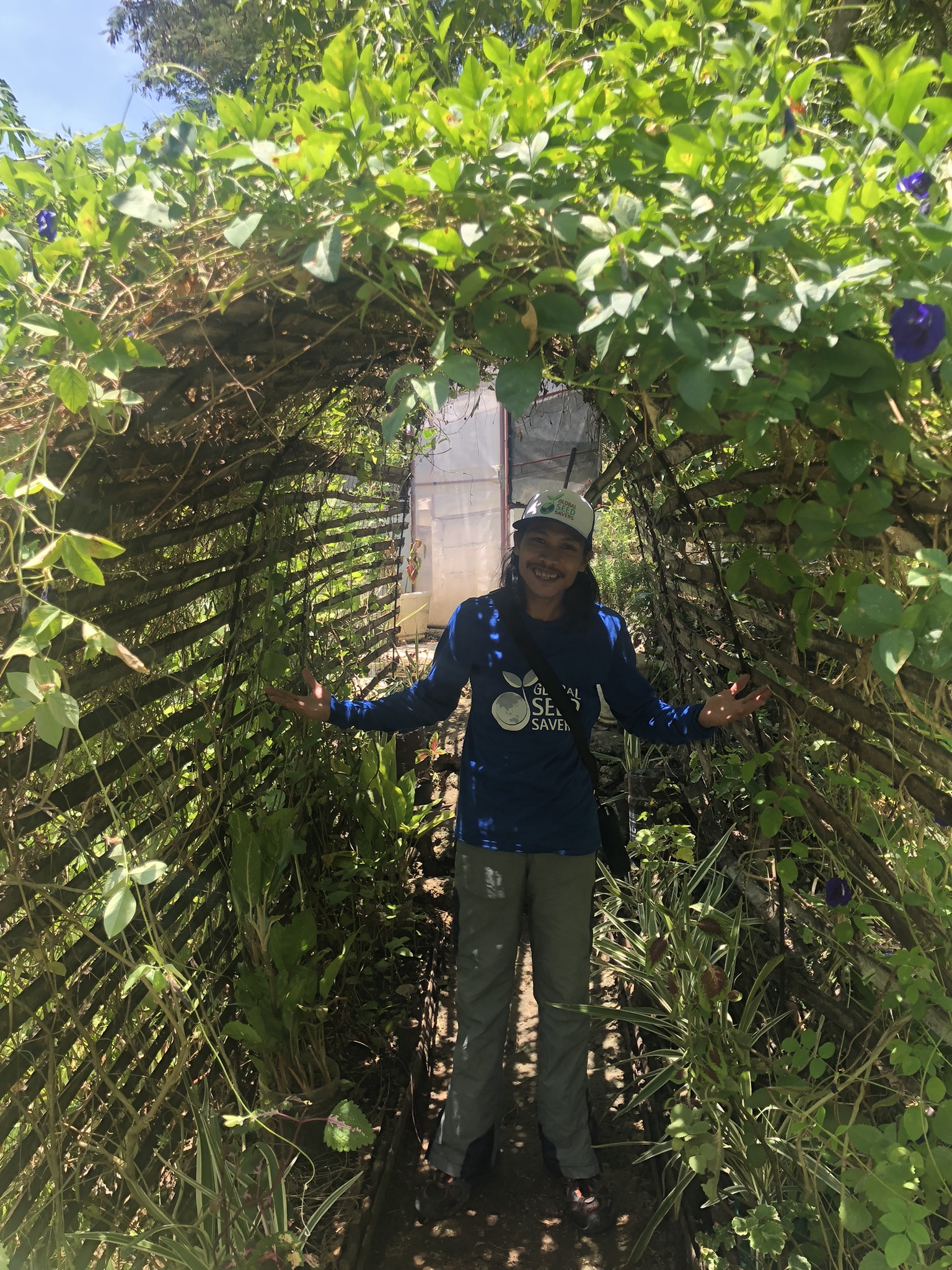 I loved seeing our seed production site in action and am very excited for our yearend report about the planting cycles and which crops did best! Larger dedicated spaces for these types of seed trials are an essential step in responding to the climate realities our partner farmers face. Not only growing seeds but studying and learning what seeds survive these changes will supply the food of the future for our partner communities and indeed the world! Thank you for leading these efforts at Arapal Harry and more seed production sites in new regions of the country to come soon!
Now, on to the FAO 9th Session of the Governing Body for the International Treaty on Plant Genetic Resources for Food and Agriculture (say that 10 times fast 
 here in New Delhi, India! Wow, what an incredible opportunity this is going to be for us this next week. Not only to reconnect in person with our mentor and dear friend Bill McDorman who connected us to this all. Bill and I have already spent the day talking for hours about our work the importance of our presence here and more, but to be an active participant in this complex international gathering that sets the policy and practices that govern our food and seed systems is truly amazing! The official session begins in a few days and walking into the main hall as they were setting up earlier today gave me chills!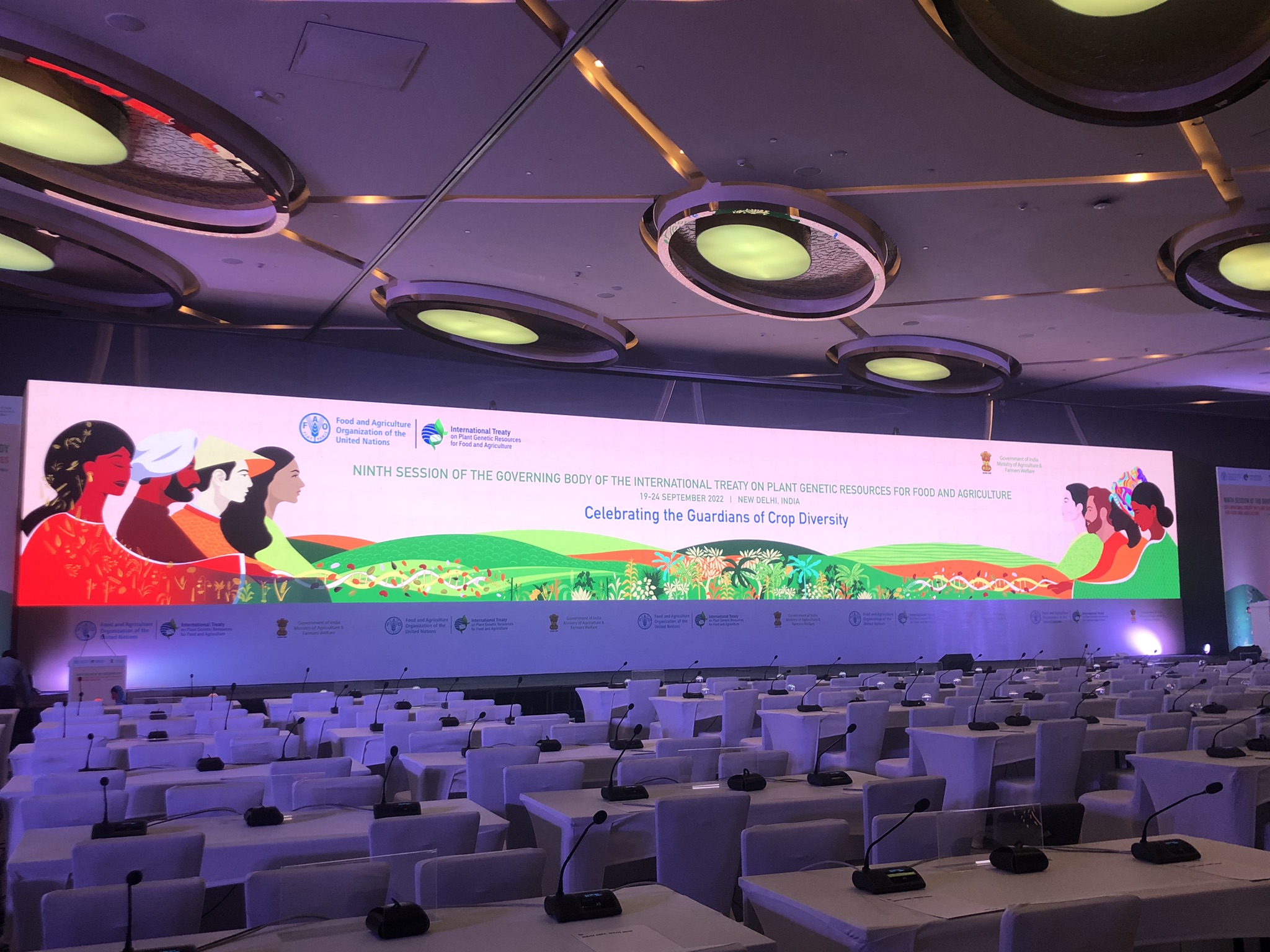 The main hall for the sessions
Our world is an ever-growing complex place and now more than ever we must be able to come together to collectively solve the greatest challenges of our time. What could be more important to undertake and change for the better than the ability for ALL communities to grow, protect, and preserve their diverse food and seed systems that feed and sustain us all. That is what this treaty and the many parallel treaties and declarations of the United Nations are meant to be protecting and Global Seed Savers is humbled and honored to get to be in the room for these deliberations and play a hand in shaping their future. Most importantly as the theme for the session states, "Celebrating the Guardians of Crop Diversity." For us, these guardians are our dedicated partner farmers at GSS and the millions of others around the globe. Ensuring their rights and perspective remain core to these treaties continued evolution will be a tremendous responsibility and honor. I am also thrilled to share that we have been accepted to host a side event on Thursday to share more about our work. This will be a wonderful opportunity for our model and efforts across the Philippines to be highlighted and to hopefully build pathways to deeper collaborations in the future.
These very beliefs and understanding of the humanity that connects us all, is what Eleanor Roosevelt brought to her visionary idea and key leadership role in the forming of the United Nations in 1945 (the FAO is agriculture arm of the UN). A deep belief that by coming together across our geographic borders, our differences in culture, identities, and belief systems we can build a better world that is committed to shared values of justice and peace. Time and time again, we have seen in our work that seeds are an essential bridge to breaking down these barriers. Nothing more fundamentally connects us all than food and the cultural connections and stories food resonates and facilitates and seeds are small, but oh so powerful common thread to this all!
Looking forward to sharing more updates and reflections as the Governing Body Sessions begins in the coming days!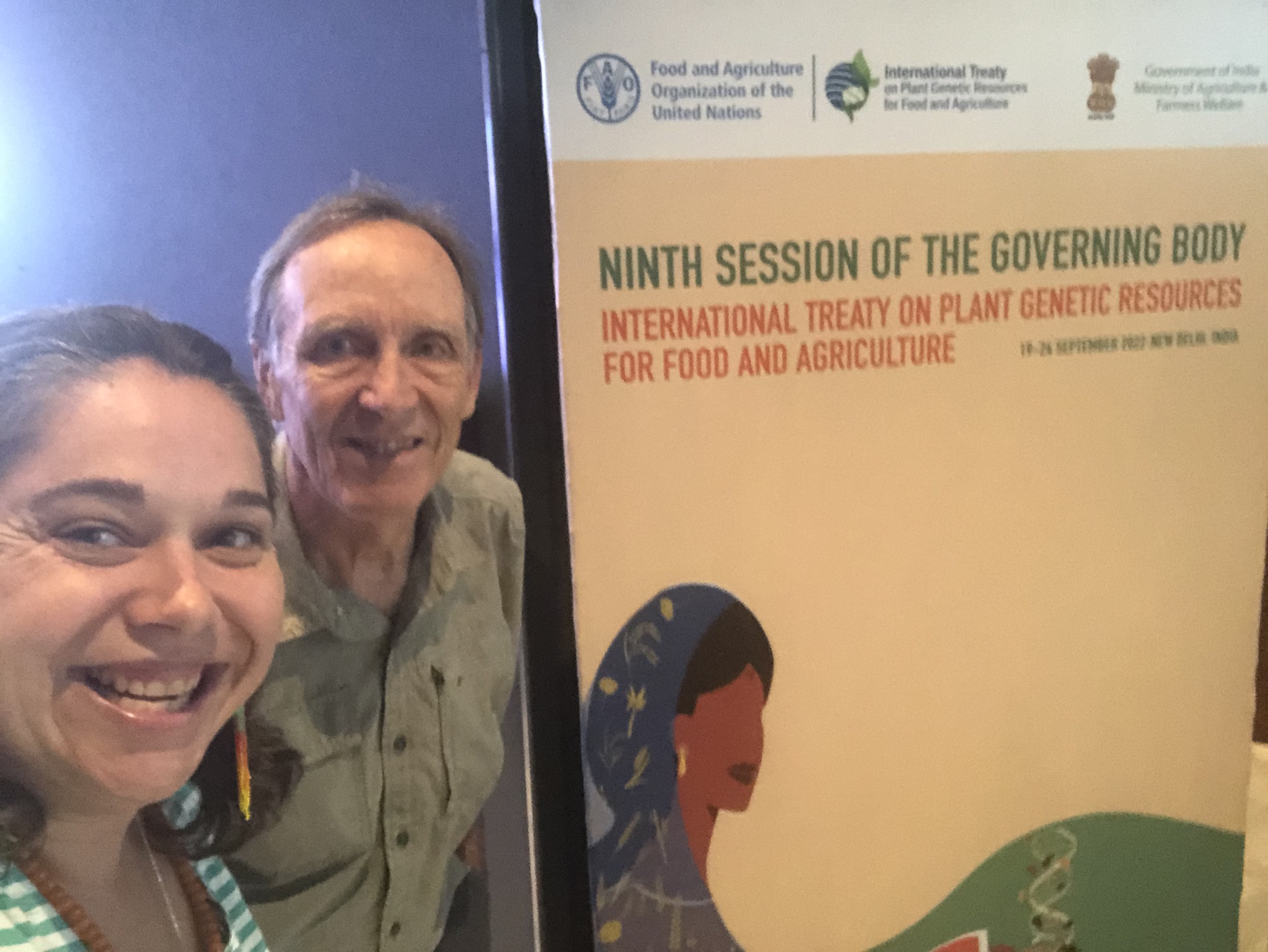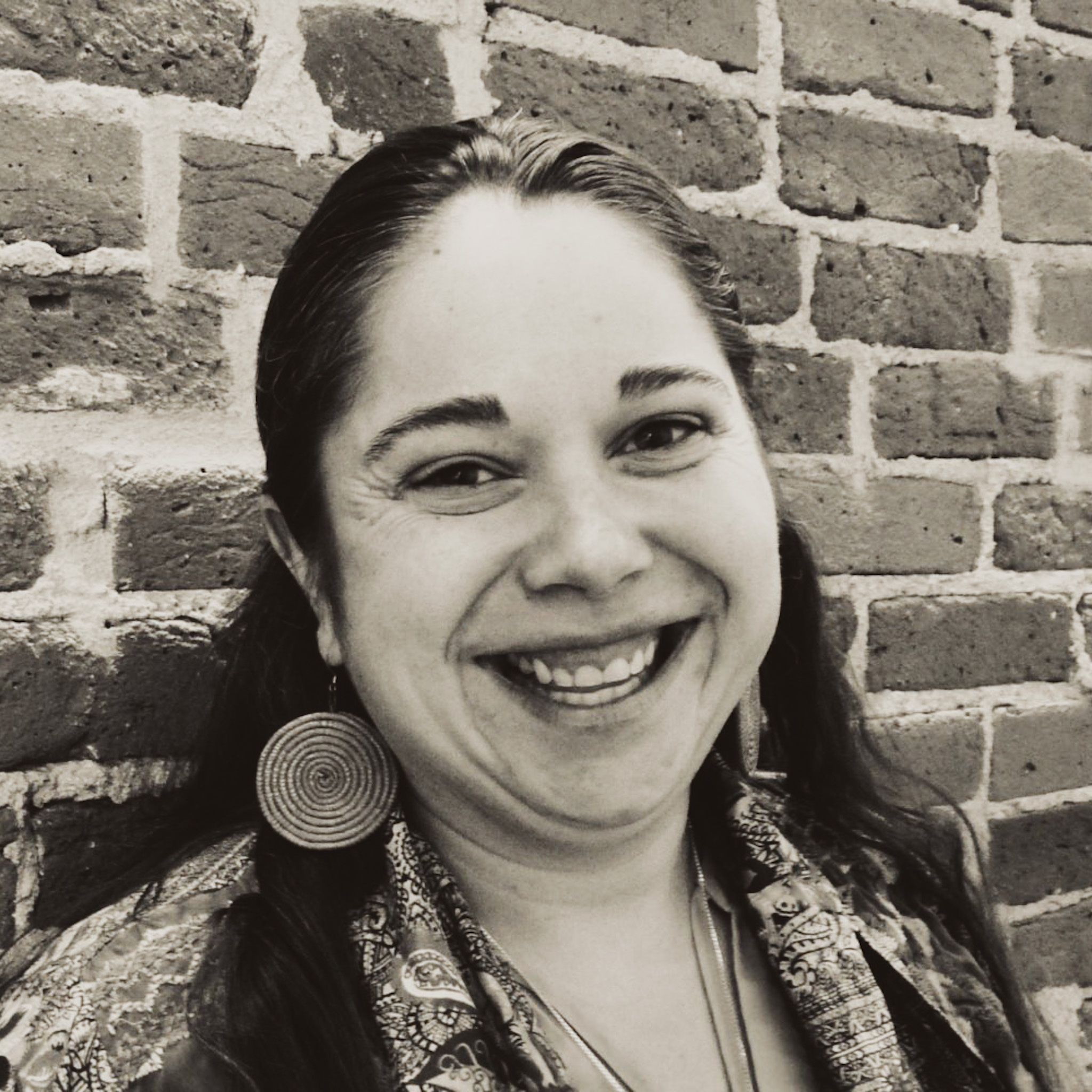 Sherry Manning
Sherry holds a Masters Degree in Environmental and Natural Resource Law from the University of Denver Sturm College of Law and a Bachelor's in Government from the University of Redlands in Southern California. She is a proud graduate of Seed School in a Day and the weeklong Seed School Teacher Training program of the Rocky Mountain Seed Alliance and has facilitated multiple Seed Saving courses in the US and the Philippines.
Sherry also serves as the Interim Board Chair for The Women's Bakery and the Chair of the Board of Directors for the Posner Center for International Development.