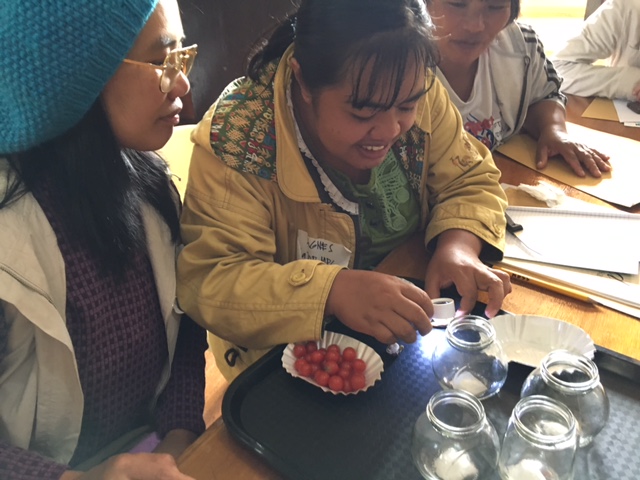 Image above: Participants dissect seeds
I have had the distinct honor of working and living with Filipinos for over a decade. Each time I return to my adopted homeland my connections and the great need for our collective work gain further strength and momentum. In light of the shock that rippled throughout the world on Tuesday I know now more than ever how critically important this work is and am incredibly honored to have the ability to channel my tears, frustration, and most importantly passions into something so productive in this time of confusion and uncertainty.
Today was the first day of our 3-Day Seed Saving and Farmer Capacity Building Seminar in Baguio City. As the seminar room filled with 50 farmers and participants representing 6 different Provinces throughout the country, my heart was filled with joy and excitement for all that lies ahead for this collective of farmers. Many of the participants traveled multiple days to attend this training but still arrived with smiles on their faces and eagerness to absorb the information. While each of the participants may come from different regions and produce many varieties of vegetables and rice we are all united in the fundamental understanding that the ability to build sustainable communities starts with each of us!! Not with government (local or foreign) and not with East-West Seeds the largest seed dealer in the Philippines continuing to promote hybrid seeds that leave farmers dependent on purchasing seeds after each planting. But this room full of farmers, waking up to the reality that they can grow their own seeds to sustain their families, communities and the world!!
Today more than ever I am re-empowered to continue this good work and honored to be here putting my energy and love into something so meaningful during this seemingly precarious moment in time. These dedicated farmers are the best example of working to build and be the change we want to see in the world. Wendell Berry once said, " The threat to precious things will be our advantage. It clarifies our duty." This is the time that we live in and Friends of ENCA Farm is energized with our new clarified duty and desire to empower Filipino Farmers to Seed and Farmer Up!!