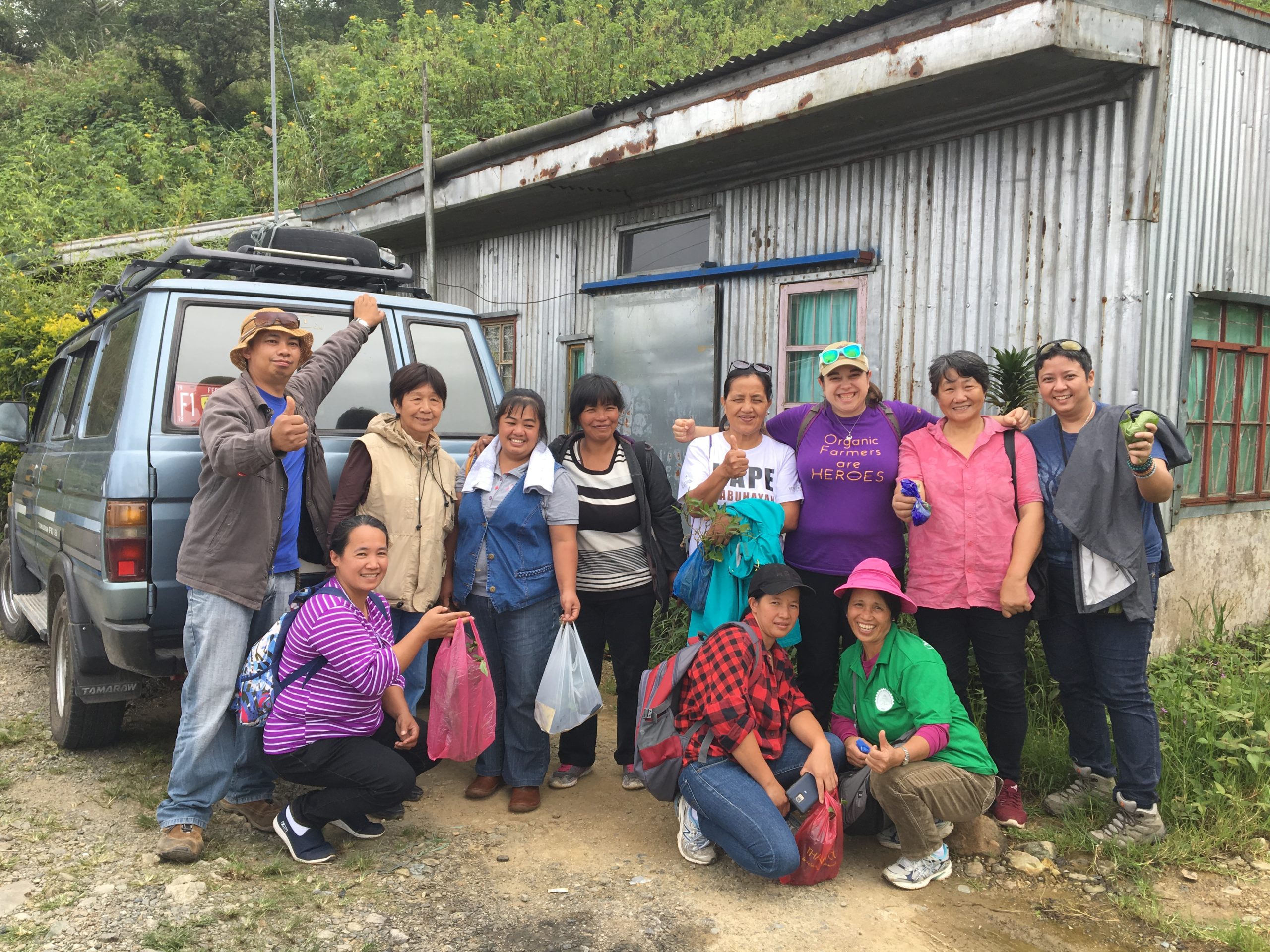 Image above: BASS Members pose for a photo after visiting the Boaz Family Farm in Atok!
On Monday we woke early and headed to Tublay to meet the BASS Members and conduct field visits to some of the new members farms. The farmers' commitment, energy, and excitement about their collective work is truly infectious and it was wonderful to be greeted with big smiles and hugs by all when we arrived! We visited four farms in total and each has their own unique story and beauty. Many of the new farms are quite isolated from neighbors, which makes for wonderful growing conditions for both seeds and vegetables. I was particularly impressed with Ma'am Anita and Sir Jornald's 1,000 sq meter farm located in Daclan, Tublay. They have a rich diversity of crops ranging from beans, turmeric, legumes, and various fruit trees. Anita shared that in 2008 she and her husband attended a seminar about organic farming held at the Municipal Hall and after attending this program they were inspired to go organic and began farming their land. Anita is a new member of BASS but is already proving to be a leader of the group and will be co-teaching one of our up-coming Seed Schools in a new region of the country next year!
Field visits have become a core component of our programming and it is always so inspiring to return and see these famers hard work in action. The field visits also foster a strong sense of group unity and identity amongst the BASS members. They often trade seeds and plants and are constantly sharing ideas about how to improve their organic farming and seed saving practices. We always share a meal together during our meetings, which is another way we are fostering a sense of family amongst the BASS Members. This shows because our conversations move easily between laughter and jokes and seed saving and organic farming realities in the country. These farmers know how to work hard and play hard!!
On Tuesday we all met again for a full day of planning and reflections with the BASS Members about the successes and challenges (opportunities) from this year and their plans and goals for 2018. It was amazing to make a list all of the things we accomplished this year including the following highlights:
More than doubled membership of BASS.
Registered BASS as official Association.
Held Training of Trainers Program for 30 Farmers. Preparing BASS Members to teach Seed Schools.
Held 2 Seed Schools with new partner communities in the Philippines. Co-facilitated by BASS Farmers.
Opened 1st of its kind collaborative Seed Library in Tublay. Currently the Seed Library has over 20 different varieties of seeds all produced by BASS Members.
11 BASS Members completed a 3-Day Computer Training Course.
Wow, what an honor is has been to help make each of these successes a reality!
The BASS Members developed some fantastic goals for 2018 as well including:
By the end of 2018, BASS Members will have at least doubled the diversity of varieties available in the Seed Library.
By the end of 2018, BASS Membership will have increased by at least 50%.
By May, FY 2018: BASS will host a Provincial Wide Seed Forum and 1st Annual Seed Swap.
We are so excited to help these goals become a reality in the coming year!
We ended the meeting with a seed exchange where farmers got to select seeds they want to trial for viability here in the Philippines. Special shout out to our friends and partners at Seeds Trust for donating so many seed packets to our efforts! We look forward to sharing our second seed saving trial results with you in the coming months!
We are also thrilled to share the news, that as of October 25th, Global Seed Savers-Philippines is an officially registered Philippine NGO!! I am so excited to see where this continues to take us and looking forward to investing in building our continued local capacity as we mature and grow as local NGO. Many thanks to the connections of our local Philippine Board of Directors I will be having some meetings in Manila before I leave with potential funding and programmatic partners locally. We are thrilled to see our focus on seeds resonate with so many and excited to continue to see our organization germinate and grow!