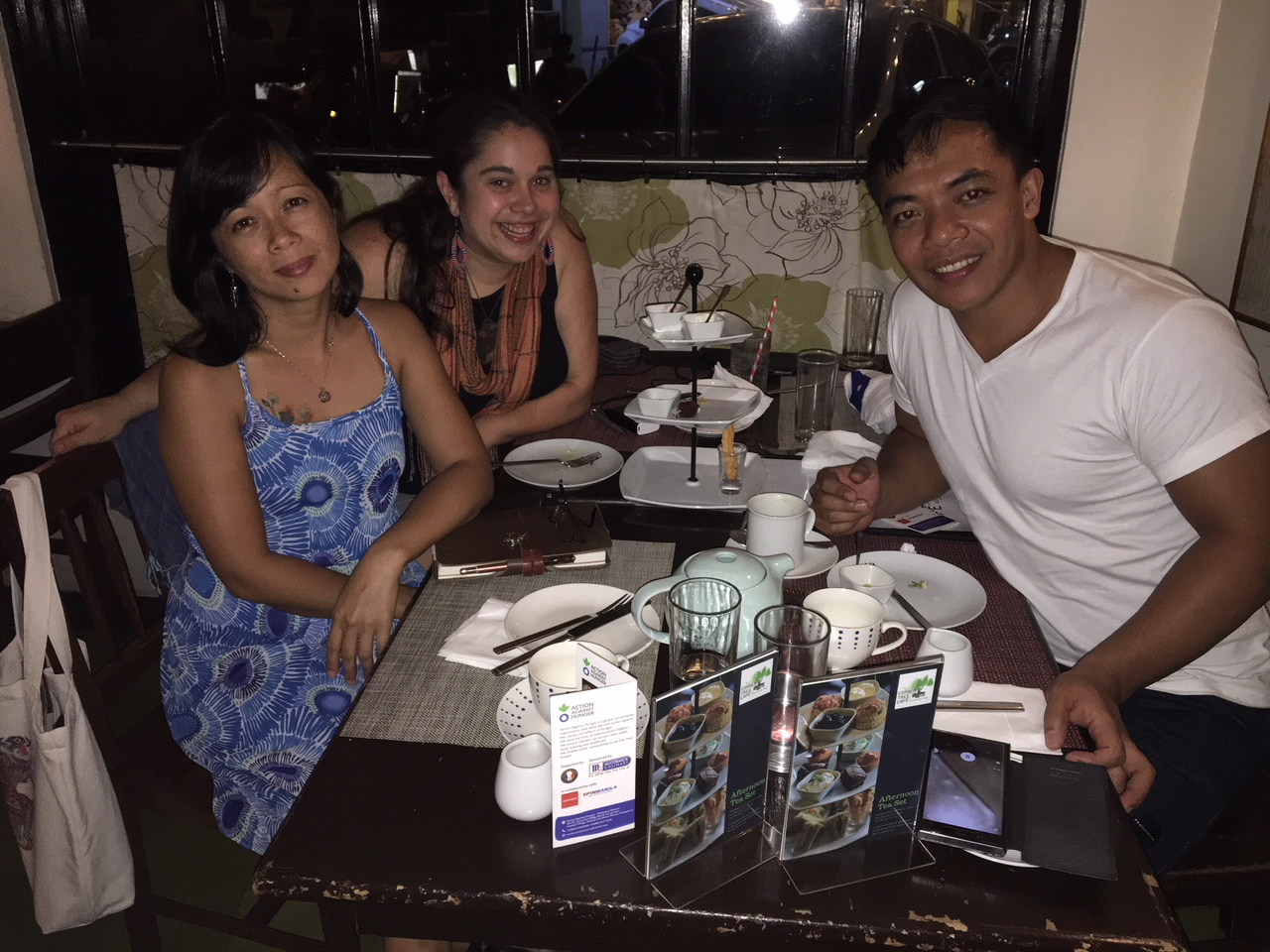 Image above: Padma, Efren and I at CTC 2017
While all of my trips to the Philippines feel short this has been the shortest trip in a number of years. It was jam packed with successful planning meeting's with Karen and our core farmers and great connections with potential new partners and like-minded organizations throughout the country. We are in a very exciting place as an organization having spent the last two years forming our model and seeing it work in Benguet Province. We are thrilled that organizations and communities around the Philippines are finding us and wanting us to bring our Seed Saving knowledge and expertise to their communities and programs. We are truly ready to see our initial seeds planted in Benguet germinate around the Philippines! Saturday was jam-packed with meetings in Manila. Typically, I try to avoid much time in a city I fondly refer to as, "The Big Smoke," but as our organization is growing it is essential we make connections with other likeminded organizations and eventually local funding opportunities. I first met for lunch with a dynamic young Filipino Entrepreneur Cherrie Atilano, the founder of Agrea. Cherrie grew up as a farmer and has always seen the value and importance of farming for her country. Three years ago, she Founded Agrea with the mission to help eradicate poverty for farming and fishing families, to alleviate the effects of climate change and to help establish food security in the Philippines. They are piloting their "One-Island Economy" model on Marinduque Island, which is often referred to as the heart of the Philippines (as the island is shaped like a heart). They have a model farm on the island that serves as a training center for new organic practitioners, they are primarily focused on rice farming using the System of Rice Intensification (SRI) which is helping restore diversity to the islands rice production, and they have a vibrant school garden program teaching the next generation the value and deep importance of farming. It was wonderful to connect with such a mission aligned organization and we look forward to continuing to discuss how we might be able to help Agrea incorporate seed saving into their efforts and develop a seed library on Marinduqe stocked with locally grown open-pollinated seeds!
I also met with another dynamic young Filipino farmer leader Enzo Pinga of Earthbeat Farms in Laguna. Enzo attended the Seed School we held at Kai Farms in June and it was great to meet with him and get his feedback about the program, as it was our first time teaching outside of Benguet Province. Enzo, like many of the growing young farmers and foodies in Metro Manila and the surrounding areas, discovered farming out of passion and a deep understanding of the need for greater food security and sustainability. It is so inspiring to talk with these young farming leaders who are committed to building a more food secure Philippines not just in words but also by getting their hands dirty on the farm! Earthbeat is a 1,000 sq meter farm managed and worked by Enzo and a small team of about 7, mainly growing organic vegetables for restaurants and hotels in the greater Metro Manila area. We had a great conversation about the need for seeds to be the central element to restoring food diversity and security in the Philippines. We also talked at length about the next generation of farmers in the Philippines like Enzo, since the average age of most Filipino Farmers is 57, a key element to building food security and ensuring a vibrant agricultural system continues is supporting and encouraging young farmers like to stay in faming!! Learn more about the great work Enzo is doing here! My last meeting was with Padma and Efren the Global Seed Savers-Philippines Board President and Treasurer. I am so thankful to get to work with such a strong local Board full of passionate people all committed to our collective work! We had wonderful conversations about our ambitious program plans for the year including; hosting at least four Seed Schools with new partners, hosting one Seed Forum for the entire Province of Benguet, and helping co-create at least one new Seed Library in 2018 (to name only a few of our indented programs for 2018)! We also discussed the projected local budget for the year, and talked at length about the need for the local board to start to fundraise locally to support our growing work. I am excited to have the Philippines Board take the lead to organize a fundraising screening of SEED: The Untold Story film and official launch of Global Seed Savers-Philippines sometime in early 2018 in Manila. Many of our local board members are very well connected in Metro Manila and I have no doubt this event will be a great success and opportunity to share about our work with a wider audience.
I left Manila a few hours ago and am safe to the Taipei Airport where I have about a 6- hour wait for my flight to Seattle. While it is always hard to leave the Philippines after a fantastic last few weeks with our farmers and meeting so many other like minded and mission aligned partners, I am more inspired than ever to continue on with our good work of ensuring that all communities are hunger free with access to sustainable farmer produced food and seeds. Thank you all for helping make this work a reality and as the busy season of holiday's approaches please remember Global Seed Saves in your, year-end giving. We are kicking off our year-end campaign next week on #GivingTuesday, November 28th! Mark your calendars and visit our website to make a donation and support our growing impact in the Philippines. Our year-end goal is to raise $2,500 by December 31st! Help us get there and ensure the next generation of farmers has the technical training and access to locally produced open-pollinated seeds they need to feed their country and replenish the land! Thank you for your generous support and wishing you all a very happy Thanksgiving with your loved ones!!