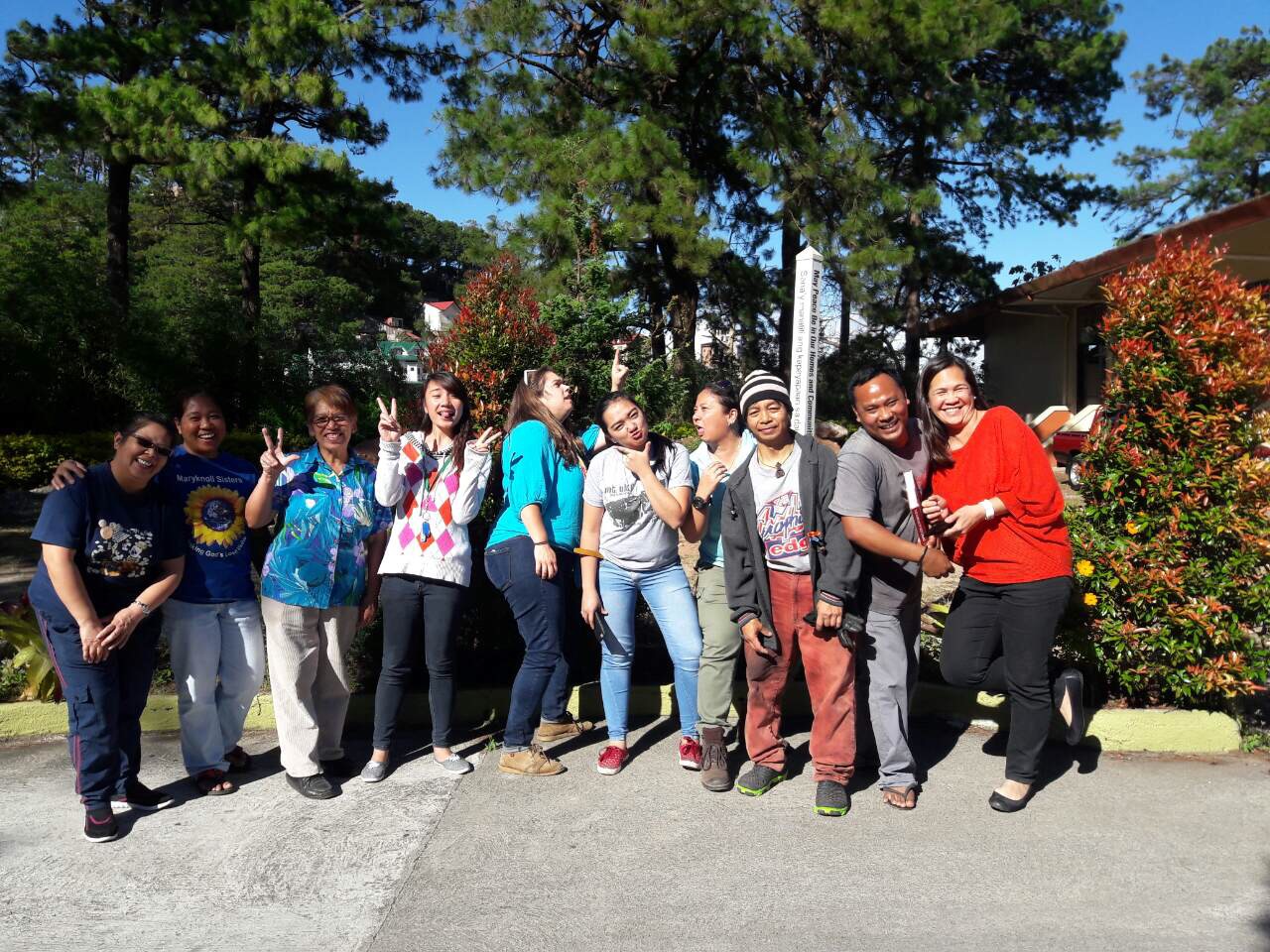 Image above: Wacky shot with our friends at Maryknoll
It has been an incredibly busy 10 days in Tublay/Baguio since I returned from Sagada on November 23rd. Complete with presenting awards at the local Mr. and Mrs. Tublay pageant, attending the opening of the new Food and Coffee Processing Center in Tublay (where our seed library will be housed), setting goals with our core seed savers for the coming year, and more! On Wednesday, Karen (our local Program Manager) and I met with the core Seed Savers in Tublay. This was the first time I had seen the group since our seminar last month and it was great to reconnect with these dedicated farmers. We de-briefed the seminar and each of them said that it was a huge learning opportunity and they loved being able to share with and learn from the farmers from other regions of the Philippines. It helped them realize how blessed they are in Benguet to have fertile land and supportive government and partners. One of the farmers said that helping our newfound farmer friends should be the Seed Savers largest advocacy! Each of these Seed Savers is ready to teach and we are excited to make this happen in 2017.
Karen has been telling me all year what a great group our core seed savers are, and I now know what she meant. Each of these dedicated farmers is committed to helping restore seed saving to their community and setting a true example of leadership and commitment to making this happen. In addition to de-briefing the seminar we also discussed the groups goals for the coming year. They have decided to form a Seed Savers Association by the end of Quarter 1 and each member will be inviting one dedicated farmer to join the association, as you need 15 to officially register. We will be assisting them with the formation of this association in the coming months and are excited to expand the seed saving trials with more farmers. We also distributed the second half of the infrastructure project funds each Seed Saver submitted proposals for in July. Thanks to the generosity of our donors during our June Global Giving Campaign, 5 of our core group will soon have new composting and greenhouse facilities at their farms to support their continued seed saving and organic farming efforts. I will be visiting the farms before I leave to check in on the progress of these projects and am excited to see the results in the coming months!
Yesterday, Karen and I were invited to give the final talk at Maryknoll Ecological Sanctuary (where we held our seminar) climate conference. We are so thankful to have identified Maryknoll as a partner and collaborator as our missions are very similar and the staff and sisters there are very excited to get more involved in our seed saving efforts. The audience was filled with a diverse room of urban gardener's, local officials, and others. Karen and I shared about the success of our seed saving trials and education and training programs this last year. In fact, one year ago yesterday was when we held the first Seed School in Tublay! Karen and I marvel at all we have built and accomplished since that first seminar one year ago. None of this success has been possible alone and I am daily thankful for Karen and her hard work, passion, and vision for this work. Thankful to our partners at home and here in the Philippines, and thankful to each of you for believing in this work and supporting it in the many diverse ways you do.
Each time we share about our seed saving efforts and the reality of the current state of seeds in the Philippines (all treated with chemicals) and around the world people light up and are making the important connections between seed and healthy food and ensuring our continued resiliency in light of the large challenges we face. This work is not easy, but after all, anything that is worth doing is often not, and I am inspired, empowered, and committed to seeing this movement grow in the Philippines with each farmer we empower to return to the important historical practice of saving their own seeds for themselves and their community!!